The items, including Scrabble and Monopoly, reached over thirty times their estimate.
An auction of Freddie Mercury's personal items has included the sale of games and jigsaw puzzles owned by the late singer-songwriter.
Almost 1,500 objects were sold across six auctions by Mary Austin, one of the star's oldest friends.
The musician, who found fame with the rock band Queen, died in 1991.
Several of his treasures were displayed in public for the first time by Sotheby's auction house as part of a free exhibition.
These included a collection of games and puzzles, comprising:
Travel Scrabble

Scrabble

Can You Survive Your Mid-Life Crisis, board game

Monopoly

München, 1000 piece jigsaw puzzle

Richard Dadd, The Fairy Feller's Master-Stroke jigsaw puzzle

The Allied Entertainments' Game, framed

Ping pong bat, two skipping ropes and a Queen Australian tour 1985 backstage pass in a rainbow canvas duffel bag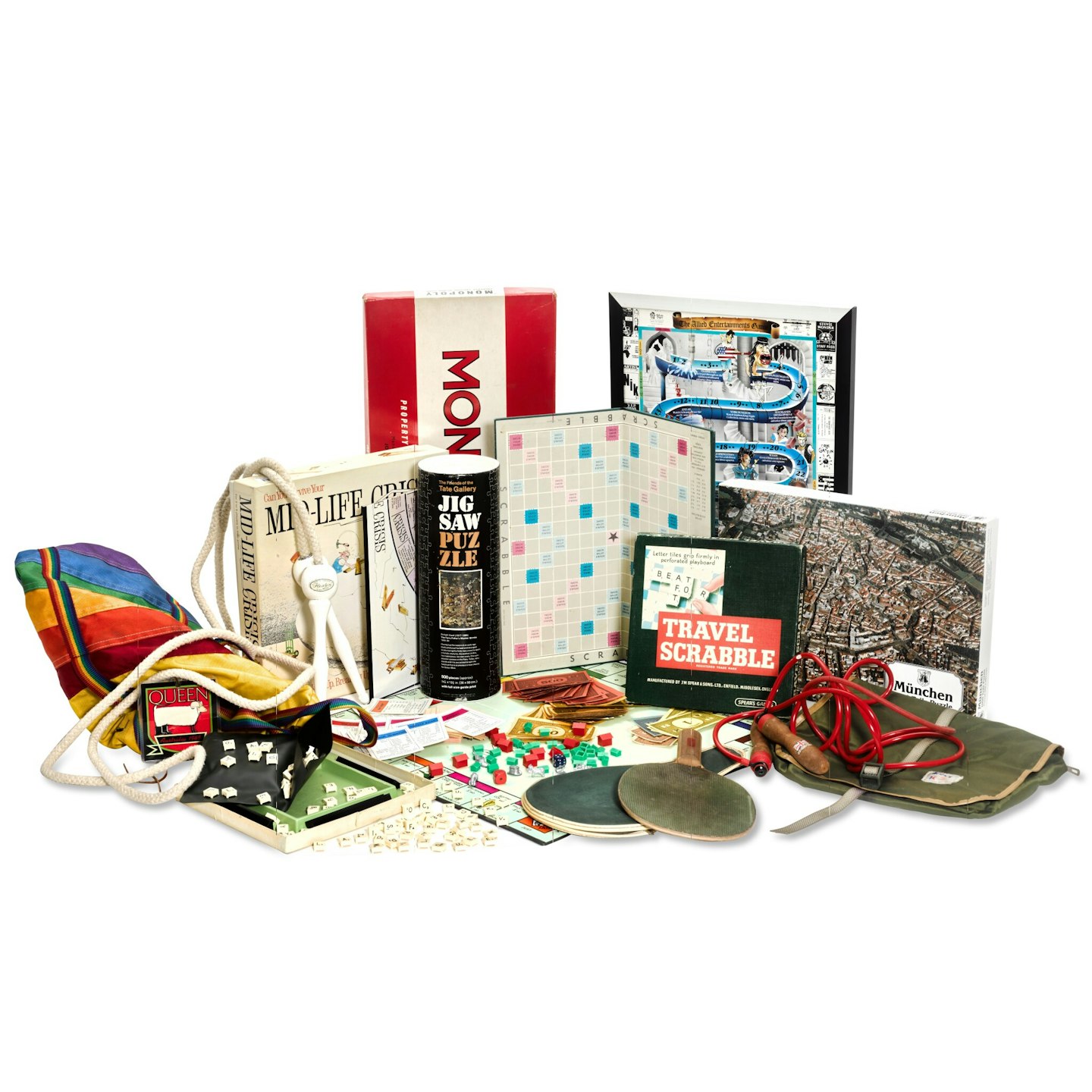 The famous front man's love of puzzles was well-known.
Queen roadie Peter Hince remarked in his biography that Freddie would regularly tackle newspaper teasers, "striking one of his stage poses of raised arm and clenched fist" when he figured them out.
He also had a fondness for Scrabble, which he can be seen playing in several photographs and video footage.
Band members Brian May and Roger Taylor have recalled Freddie's competitiveness and how they used games to pass the time together while on tour.
Another perennial favourite previously owned by Mercury was Monopoly.
Queen became the subject of their own version of the classic game in 2017 when a special edition was produced.
Record breakers
While the collection vastly exceeded its estimate of £300-£500, it was not the auction lot which generated the highest bid.
That honour went to a Yamaha baby grand piano, used in the writing of hits such as Bohemian Rhapsody, which was purchased for £1.7m — the largest sum ever paid for a composer's piano, Sotheby's said.
The sale joins a long list of record-breaking achievements associated with Queen, including their 1981 Greatest Hits compilation which is the best-selling UK album of all time.